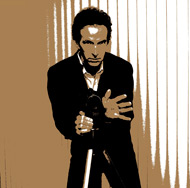 Game Theory: 2 Steps From the Middle Ages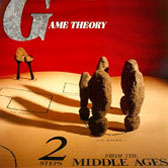 Released: 1988 (Enigma Records)
The band: Scott Miller, Shelley LaFreniere, Donnette Thayer, Gil Ray, Gui Gassuan
Guest musicians: Mitch Easter, Mark Slagle, Craig Silvey, Dave Barrett, R. Dunbar Poor
Producer: Mitch Easter
Flying in over Asia low
Not the one that we think we know
Will it be a better life?
Will they understand a word?
But the catch phrases
There when we go
Will be the likes of
"Elegance of line"
And "sense of place"

I never know
I don't think so
Well all the better
We can leave behind
Everything we know
And we'll all get in line
It's called "this old continent"

And room for one more
All we see out across the land
All exists out of our demand
Will it be our new America?
And can we invent its history?
Well that's what
The brochures would imply
And we'll have
Elegance of line

And we'll all get in line
We can say we tried
Well I've been wondering
If anyone back home
Is on our side
We'll know our ride

And sense of place
And room for one more
Always one more
We think that it can work but it doesn't often
I think we'll look like jerks nailing our own coffins
We think that we can talk but we miss it by a mile
We think that we can joke but no one cracks a smile
Must be out of touch
They think that there's so little
I can't believe there's so much
Of what the whole world wants
All down every street
But I can't get a square foot of shade from the heat
What the whole world wants
Just outside our door
Be we don't see a day's end without needing more
We get the most we can, I don't think we've earned it
We act just like a man, I don't think we've learned it
We do it like our job and we treat it like the law
Well it must have been your little sister I saw
Must have been your little sister I saw
Must have been your little sister all along
It's bred into the bone
And we don't need our friends
They wonder how to get started
I wonder if it ends
But it's what the whole world wants
I must be almost old enough to hear the bad news
Tell me now
We can drink to Minneapolis and Vegas
It may be an almost absolute relief for us
On our way down
And everyone around
I'll walk around the city snapping pictures
Uninvolved
And wasting no one's hopes for me
No one left to look at me as if I've let them down
No longer sounding like I'm trying to change the key
I'm going to be the picture of agreeability
They'll call me the picture of agreeability
Get that original thought away from me
Amelia have you lost your patience
With my attempts at conversations?
I know I've lost my chance with you
I know the words aren't getting through
So what should I do?
Amelia has the one you trusted
Grown hard and maladjusted?
But there are always reasons why
I know I can't just say goodbye
So what's left to try?
What if the whole world saw I care?
It's never kind to souls laid bare
But Amelia, I'm half undone inside, I swear
Amelia did a perfect vision
Fade under cold derision?
I'm tired of staying out of sight
But are the cold stares left and right
Just too much to fight?
Next life, I'll be the young distraught
You be the jungle man now caught
Oh Amelia, I can't give what I haven't got
Used to run all night on mood swings
And spill our gasoline
And play the violin behind the scenes
Felt so right to leave you losers
Why do I miss you now?
How much we give the ghost up
When we learned how to get where we're going?
Come on home, Wyoming
I know that every night you lie
And stare at the ceiling
Till you start believing it's the sky
Never knowing why
High on any sheer will measure
We run the on-time train
But we could call just one off due to rain
Sable frenzy, drunks and addicts
Do it all the time
We could always let one fall behind what we do
And pay what we're owing
Come on home, Wyoming
All the parts and so decided
Once in some abandoned world
Hosts inside and guests invited
Rolling with the moody girls
A jostly night anticipated
First one home from boarding school
A dash from dad, the rest created
As per Hoyle's creation rules
Patterned shawl draped in a crown
Lipstick darker than her frown
And dusty jewelry hanging low down
Out of the lost and found
Now I'm rolling, now I'm rolling
I'm rolling with the moody girls
Caught without a class distinction
Prints replacing oils for now
Each new year could bring extinction
No one knows exactly how
Unfolding their defense in stages
Harshest critics can't refuse
Two steps from the middle ages
Rose details and ruby shoes
Taking on their sovereignty
Pointless as it may well be
But someone's going to have to go see
And it might as well be me
I watch the mood get sober and I'm not so sure I'm over
All the times I didn't know and I didn't used to know
When my heart was breaking nightly
Was I taking things too lightly
That would never come again, that would stay awhile
And end?
Bring us in under budget, lord
We want out of the wrong
Playing safe too long
Though we're miles clear of the firefight
We can't light our pipes with hindsight
I'll re-start this life somehow, I could live it better now
Give us grace under pressure, lord
And help us watch our tongues
And make our mistakes young
In a Delorean we're all going make our mistakes young
I'd apologize the ears off
But the gloom here never clears off
I can't sit through one more day of deserving some O.K.
It's a scandal just to mention
But I don't mind the attention
It's a failing by design, Betty Ford's world and not mine
Give us some final option, lord
We mean well every one
Let us make our mistakes young
In a Delorean
All over El Cerrito hair gets combed in tangles down
And every radio's aligned onto the finest sound
Look out for love lost when the lights are changing
All last year's cassettes together melted on the ground
All over London, England young lines take the old lines on
The weight of never making any difference almost gone
But it's a headache being right when everybody waits
To jump on you the first time that you're wrong
Across the nation every sports bar turns the pre-game on
And every regular is sneering like we don't belong
No it's not true I played a lot of baseball in my younger days
One day the diamonds were all gone
The notices I never thought would be sent out have arrived
The notices I never thought would be sent out have arrived
Why can't we throw them in the faces that say we may
Not survive?
Why can't we cruise the night alive?
You drive
Donovan tapes play for hours on end
But the old feelings won't stay
Try though she may
Hates who she was yesterday
And so does she think that she loves someone?
Making the firedrill work twice
Always no dice
Don't think that things can stay nice
Swordfights on tables for way too long
Ended I guess in a draw
Now Douglas Fairbanks is one off the list
Singling la leilani la leilani la
Was every outing a play for you
Or did I really have fun?
Clothes on the run
Go out and make me someone
Whatever happened to that whole life?
Shootouts each chance that I saw
I hear them ask does Clint Eastwood feel lucky now?
La leilani la leilani la
And she just wants to look okay
She just wants it to be okay
Wish I could love the way, oh the way I lean on you
Wish I could walk away if one day I wanted to
Wish I could love a day of silence
But I'll miss you to the point of violence
Wish I could stand or have a chance without you
Wish I could love the way, oh the way I'm owned by you
Wish I could really say that I've got my own life, too
Wish I needed nobody's assistance
Wish that I could find a little distance
Wish I could stand or have a chance without you
Lose my sense of fair play when she's here with me
Lose my sight with one more night of late t.v.
She can go a life not looking in your eyes
And I believe her when she lies
Too far gone to disagree
Houston, does the weak transmission say it all?
Wave transparent agents of the urban sprawl
Jazz musicians everywhere you look tonight
Crawl out of my skin outright
Thin film found on coed walls
She wants the formal indictment
The go and the flow of excitement
Entertain me once and then change my life
But don't entertain me twice
Go ahead, you could be just the thing she needs
Someone there to follow anywhere she leads
We can talk psychology till the alarm rings
Biology's the only thing
At this point that will kill the weeds
There's a light on the nineteenth floor tonight
They don't know there won't even be a fight
But they'll find out I've tired of all the things I've
Called my own
When they go to the final mats alone
Don't even waste the man-hours on us
We are finding no solution
Call all the boys in from the fighting fronts
We have lost the revolution
None of the soaring flight we dreamed
Is any closer to perfection
And all I want is one to fold my arms around
We are throwing the election
There's a light on in Joanie's room tonight
And she won't sleep till summer's going right
She thought she saw something that would lead her to believe
I'm the kind who'll accept the strokes and leave
Make me an offer, I don't waste them now
We have no more fixed intentions
Give all the faithful long-deserved rests
We've abandoned our dissentions
You could be one of someone's hundreds
Who'll be chosen for affection
And all I want is one to fold my arms around
We are throwing the election
I've got a feeling it's all rigged
I've got a feeling it ended a long time ago
Nobody tells me
I've got a feeling it's over now
I've got a feeling it's over now
I've got a feeling the votes are in and I got none
And all I want is one
On initiations week
On initiations week
We'll be kicking out the jams
And going at our peak
Initiations, formal invitations
Flighty and fancy
All night catty and chatty
They said "Who's gonna slam?
You on the periphery
Your folded shoulders, your lives mean nothing"
They keep the quiet ones quiet
And thinking "It works fine without me
Just fine without me"
But tonight that's where every last one's gonna be
There for all the lovely eyes to see
All the lovely eyes to see
And no one's going to disagree
And we'll be kicking out the jams
And going at our peak