The Loud Family's albums were released by Alias Records and used to be widely available, though they're getting harder to find. 125 Records now carries them in its online Shop (along with lots of other good stuff, including Tris McCall's Scott Miller-produced CD). Sadly, Game Theory's excellent albums, which include Big Shot Chronicles, Real Nighttime, Distortion of Glory, Lolita Nation and Two Steps From The Middle Ages, are out of print; look for them in used CD stores or on eBay.

Loud Family live album available! Get more info about From Ritual to Romance and download MP3s at 125 Records. You can also buy the new Loud Family Live 2000 DVD there.
t-shirts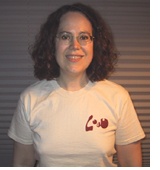 Stacey models the official Loud Family From Ritual to Romance tour t-shirt. No, there was no tour to support their new live album. Thus, the irony of having a tour t-shirt. However, it is a really nice Hanes Beefy T shirt, and it's for sale at 125 Records, along with everything else by the Loud Family.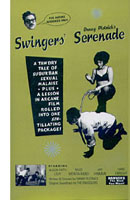 LF keyboardist Alison Faith Levy's husband, filmmaker Danny Plotnick, has made a "tawdry tale of suburban sexual malaise" called Swingers' Serenade, and you don't want to miss it! It stars Alison (in a huge wig) as a bored housewife who finds excitement with a door-to-door salesman. It's hilarious, based on an actual 1960 script, and has great music by "The Snugglers," featuring both Alison and Gil Ray, along with John Moremen (who has opened for the LF). You can buy your own copy of the 24-minute-long film for $10 postpaid; that's the video box cover at right. Send a check made out to Danny Plotnick to him at P.O. Box 460472, San Francisco, CA 94146. For more info, you can e-mail Danny directly at s8romeo @ aol.com.
Click on these images to see sexy stills from Swingers' Serenade!
loudfamily.com bumper stickers

Tell the world that you're a "Friend of the Family" with our totally cool blue and white bumper sticker! They're only $1 each and all earnings goes to support this site, which is self-financed by the webmistress. (What, you think Alias is paying me to do this?) We have special discounts if you're buying 5 or more, as well as a great deal for non-U.S. residents who don't have access to American currency. E-mail trow @ interbridge.com for details about these special offers. To get your sticker, please send a dollar bill and a self-addressed stamped envelope to:
Sue Trowbridge
P.O. Box 6133
Albany, CA 94706-0133
Friends of the Family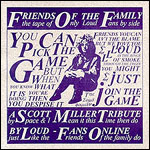 Friends of the Family: The Tape of Only Loud-Fans is a tribute to Scott Miller, featuring covers of Game Theory and Loud Family songs. Despite the "tape" in the title, it's actually a CD containing 67 minutes of music. Scott sez, "This CD would be a good intro to my stuff for people who have never heard any of it, as some crabby people don't like my beautiful singing." This great disc is a must for Scott Miller fans! Only $10 postage-paid. It can be ordered from Roger Winston; see this page for details.